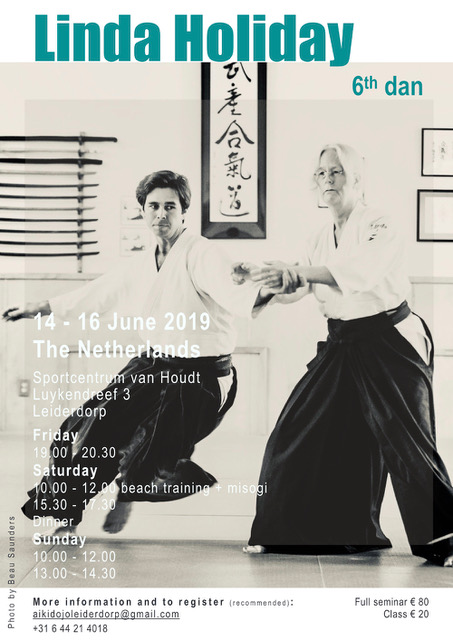 Update:
The training location for the Saturday morning class has changed. We we wil start with the weapons training at a different (dry) location.
Theehuis Leidse Hout, Houtlaan 100, 2334 CL Leiden.
https://www.google.com/maps/place/De+Leidse+Hout/@52.1755401,4.4796368,17z/data=!4m12!1m6!3m5!1s0x47c5c6c4a1c93c55:0xeae90167d5ee85f!2sDe+Leidse+Hout!8m2!3d52.1755401!4d4.4811882!3m4!1s0x47c5c6c4a1c93c55:0xeae90167d5ee85f!8m2!3d52.1755401!4d4.4811882
For those unfamiliar with the area, opposite the Alrijne Hospital, there is a Deer park, behind that is the tea house. We will train in the bandstand next to the tea house.
After the weapons training we will change to the original location (Parkeerterrein Noordduinen in Katwijk),
On Saturday evening, there will be a get-together with dinner at the dojo. Details will be announced during the seminar.
Linda Holiday sensei is chief instructor of Aikido of Santa Cruz in California, USA.
She trained in Japan as one of the first Westerners, studying with Hikitsuchi sensei (10th dan) and other high level shihan such as Motomichi Anno and Motoichi Yanase. Back in the U.S. she was influenced by Mitsugi Saotome, Hiroshi Kato and Terry Dobson.
Recently she published 'Journey to the Heart of Aikido'. The book presents the teaching of her teacher Motomichi Anno Shihan (8th dan) who was one of the direct students of O'sensei.
In 2017 she visited the Netherlands for the first time and attracted an enthusiastic and international group of people. We are looking forward to having her back and hope you will join us for and inspiring weekend of training.
For seminar participants, we are now offering a great deal: with your registration (or another mail for the early birds that already registered) you can order Linda's book Journey to the Heart of Aikido at a reduced price. Anyone who orders before April 30th will pay only €15.-
For the beach class on Saturday will meet around 9:45 at Parkeerterrein Noorddduinen in Katwijk. Please bring your jo/bokken if possible, as well as a second dry gi for the afternoon class, because we will partly train in the surf! In case of bad weather we will change to a dry location.